BIOMETRIC ACCESS CONTROL ​​
DS-K1T331 Series Face Recognition Terminal
DS-K1T331 series face recognition terminal adopts deep learning algorithm, which helps to recognize the face faster with higher accuracy. It also supports multiple authentication modes: face authentication, etc. When installed on the turnstile, it can be applied in multiple scenarios, such as buildings, enterprises, financial industries, and other important areas…
DS-K1T804 Series Fingerprint Access Control Terminal
Features
• Person information structure: based on employee ID
• Supports 6 attendance status, including check in, check out, break in, break out, overtime in, overtime out
• Supports multiple languages: English, Vietnamese, Brazilian Portuguese, Spanish, French, Italian, Arabic, and Thai
• Accesses to public network via EHome 4.0 or 5.0 protocol, and sets EHome parameters on the client or device…

DS-K1T501SF Video Access Control Terminal
DS-K1T501SF is a kind of video access control terminal, which is equipped with HD camera (2 MP/1080p) and fingerprint recognition module (supporting 1:1 mode and 1:N mode). It supports multiple advanced technologies including fingerprint recognition, face detection, smart card recognition, two-way audio, remote live view, picture capture, video recording through NVR, and so on. It also supports multiple authentications including card, fingerprint, card and fingerprint, etc.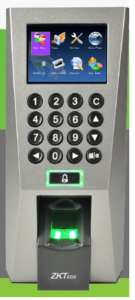 F 18 Standalone Fingerprint Reader Controller
Modern standalone fingerprint controller with color display.
Biometric Performance:
Reliable, durable and highly accurate ZK fingerprint sensor with latest fingerprint matching algorithm which provides less than 1.5 second user recognition.
Communication:
Weigand output for connecting to access control panel…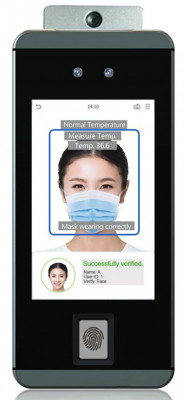 FacePro1-TD
Biometric Face Recognition, Fingerprint, Palm and Password Access Control with Temperature and Mask Detection.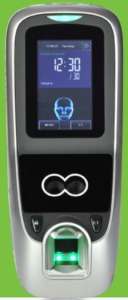 MultiBio700 Multi-biometric Access Control and Time & Attendance Terminal
MultiBio 700 is a new generation multiple biometric identification product. Integrating with Face, Fingerprint and PIN recognition and optional with RFID mode. It performs up to 20 verification methods all in a single device conveniently.
MultiBio700 stores 1500 faces and 2000 fingerprint templates and identifies users
by 1:N mode. When users glance into the MutiBio700 camera…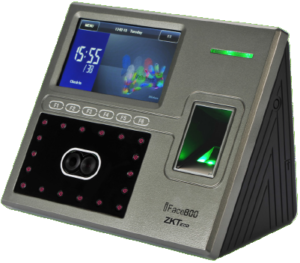 iFace 800 Upgraded Face Template Capacity and Performance
Using the latest ZK platform and algorithms, iFace800 can hold up to 1,200 face templates and 2,000 fingerprint templates. Supporting multiple authentication methods including face recognition, fingerprint, password, RFID card (and combinations), the iFace800 is ready for integration into the most demanding applications. Communication options include serial/RS485, Ethernet, USB host, and optional…

BioLite N2 Outdoor IP Fingerprint Terminal

BioLite N2 is a Suprema's 2nd generation outdoor fingerprint terminal that provides comprehensive access control and time attendance features based on Suprema's latest biometric technology and security platform. BioLite N2 provides class-leading performance and security by featuring Suprema's
latest fingerprint algorithm coupled with world's best fingerprint sensor. Packed in a rugged IP67 housing, BioLite N2 added flexibility in system design with multi-class RFID reading technology…